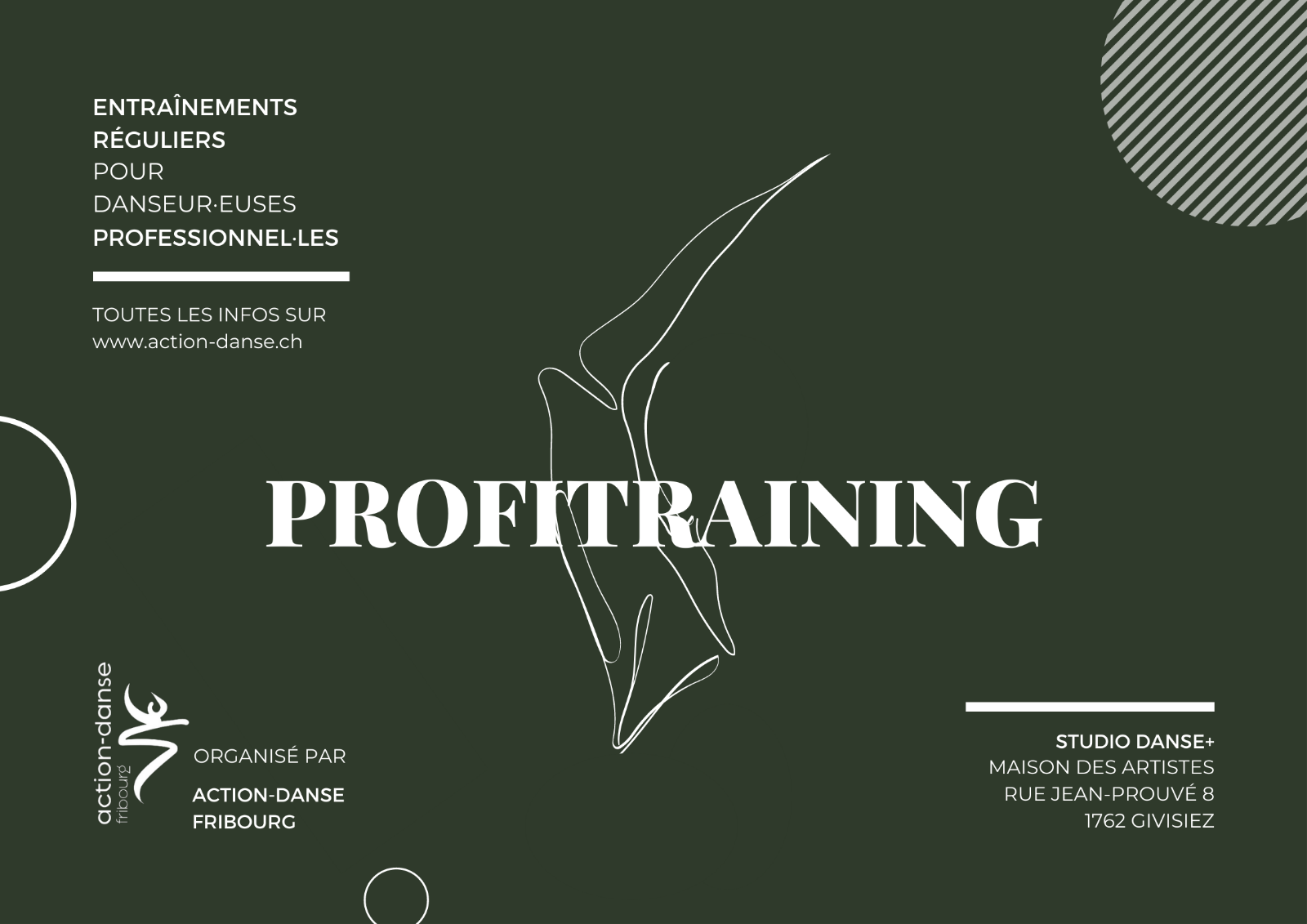 Profitraining Fribourg 2022

Lieu / Location :

Studio Danse + (2e étage / 2nd floor)
Maison des Artistes
Rue Jean-Prouvé 8, 1762 Givisiez

Accès / Access :
Train (S20, S30, S21), Bus (B 545)
Parking devant la MDA
Car park in front of the MDA
 
Prix / Fees :

Abonnement annuel / Annual subscription :
250.- membres / 300.- non-membres
Abonnement à la semaine / Weekly Subscription :
25.- membres / 30.- non-membres
Cours à l'unité / Single class :
10.- pro / 15.- non-pro et membre / 20.- non-pro et non-membre

Adhésion annuelle Action-Danse / Annual membership Action-Danse : 40.-
Cours sans réservation, paiement sur place en cash ou BV pour les abonnements
Drop-in classes, payment on site in cash or BV for annual subscriptions
Les profitrainings sont ouverts aux non-professionnel·les (niveau avancé).
Profitraingins are open to non professional dancers (advanced level).



"Profitraining Fribourg" est un projet d'Action Danse, soutenu par l'Etat de Fribourg. Nous sommes heureuses de pouvoir proposer des cours de danse de niveau professionnel tous les matins durant 20 semaines en 2022. Les dates des trainings et les intervenant.es seront annoncé.es au fur et à mesure.
"Profitraining Fribourg" is a project of Action Danse, supported by the State of Fribourg. We are happy to be able to offer professional level dance classes every morning for 20 weeks in 2022. The dates of the classes and the teachers will be announced as we go along.
 
Calendrier / Calendar :
 
LES PROFITRAININGS REPRENDRONT
EN SEPTEMBRE !!