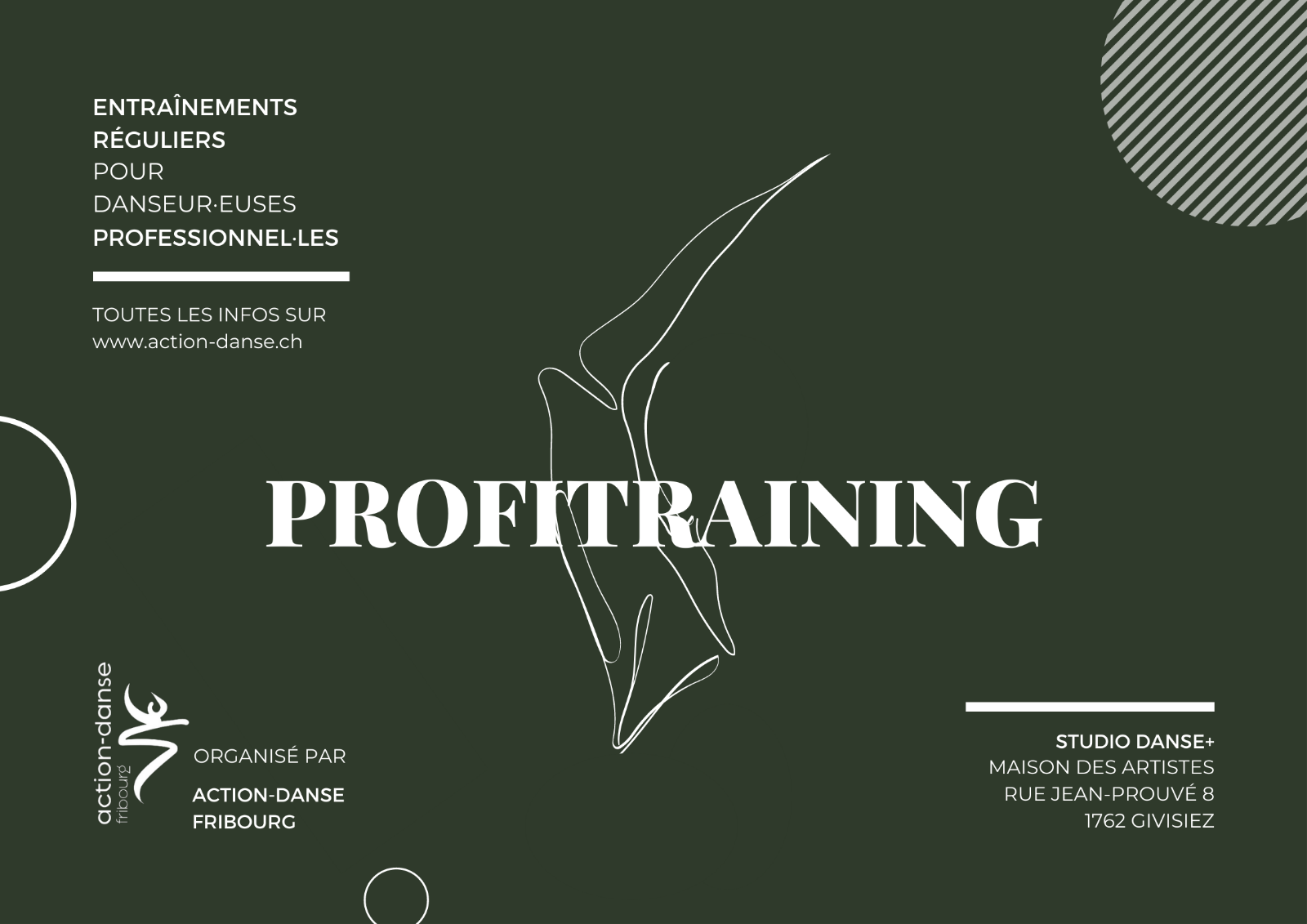 Profitraining Fribourg 2022
"Profitraining Fribourg" est un projet d'Action Danse, soutenu par l'Etat de Fribourg. Nous sommes heureuses de pouvoir proposer des cours de danse de niveau professionnel tous les matins durant 20 semaines en 2022. Les dates des trainings et les intervenant.es seront annoncé.es au fur et à mesure.
"Profitraining Fribourg" is a project of Action Danse, supported by the State of Fribourg. We are happy to be able to offer professional level dance classes every morning for 20 weeks in 2022. The dates of the classes and the teachers will be announced as we go along.
Lieu / Location :

Studio Danse + (2e étage / 2nd floor)
Maison des Artistes
Rue Jean-Prouvé 8, 1762 Givisiez

Accès / Access :
Train (S20, S30, S21), Bus (B 545)
Parking devant la MDA
Car park in front of the MDA
 
Prix / Fees :

Abonnement annuel / Annual subscription :
250.- membres / 300.- non-membres
Abonnement à la semaine / Weekly Subscription :
25.- membres / 30.- non-membres
Cours à l'unité / Single class :
10.- pro / 15.- non-pro et membres / 20.- non-pro et non-membres

Adhésion annuelle Action-Danse / Annual membership Action-Danse : 40.-
Cours sans réservation, paiement sur place en cash ou versement bancaire pour les abonnements
Drop-in classes, payment on site in cash or bank transfert for annual subscriptions
Les profitrainings sont ouverts aux non-professionnel·les (niveau avancé).
Profitraingins are open to non professional dancers (advanced level).
Calendrier / Calendar :
 
Deux dernières semaines de Profitrainings 2022 au Studio Danse+
Maison des Artistes, Rue Jean Prouvé 8 - 1762 Givisiez
- Du 21 au 25 novembre avec NICOLE MOREL
10h-11h30
Contemporain
L'entraînement est construit pour développer la conscience et l'écoute fine de chacun, de l'intérieur vers l'extérieur. Couches et étages du corps sont investis avant de déployer le geste dans l'espace. Rythmes et textures sont invoqués en silence et en musique tout au long de cette heure et demie de danse qui monte en puissance.
- Du 5 au 9 décembre avec BRIGITTE MEUWLY
9h30-11h15
Le cours met l'accent sur une approche sensible et subtile du mouvement, tient compte des capacités physiques individuelles et s'inspire de la méthode F.M. Alexander qui éveille et stimule notre conscience corporelle. Cette attention à soi peut ainsi favoriser la libre circulation d'énergie dans les différents processus de notre organisme. Dans cette dynamique, le corps retrouve peu à peu son équilibre naturel et les mouvements seront vécus avec plus d'aisance et souplesse. Mieux ancré dans le sol, le participant se sent libre, léger et coordonné dans ses mouvements facilitant ainsi un état d'esprit plus calme. Cette tranquillité amènera davantage de confiance et permettra à chacun d'expérimenter son potentiel de spontanéité et de créativité en dansant.

Brigitte Meuwly enseigne la danse et l'art du mouvement depuis 1980. De 1983 à 1985 elle suit à New York une formation professionnelle à l'école Nikolaïs/Louis Dance Lab ainsi qu'au studio Ruth Currier et auprès de Simone Forti (contact-improvisation). En 1987 elle fonde avec Antonio Bühler la compagnie de danse DA MOTUS ! avec laquelle ils créent une trentaine de spectacles et tournent dans plus de 200 villes de 45 pays. En 2015 ils reçoivent le Prix culturel décerné par l'Etat de Fribourg et en 2016 le Prix Suisse de Danse.
Pour élargir ses compétences, Brigitte s'initie par différents stages et obtient en juin 2016 le diplôme de professeure de Chan Mi Qi Gong, octroyé par le Tai Jiang Yang Sheng Centrum de la Chinesische Gesellschaft für Qi Gong Forschung. Depuis elle participe à différents séminaires intensifs de formation continue proposés par Maître Xuelin Jian.
---
Two last weeks of 2022 Profitraining at Studio Danse+
Maison des Artistes, Rue Jean Prouvé 8 - 1762 Givisiez
- From November 21 to 25 with NICOLE MOREL
10:00-11:30 am
Contemporary dance
The training is built to develop the awareness and the fine listening of each one, from the inside to the outside. Layers and floors of the body are invested before deploying the gesture in space. Rhythms and textures are invoked in silence and music throughout this hour and a half of dance that builds up to power.
- From December 5th to 9th with BRIGITTE MEUWLY
9:30-11:15 am
The class emphasizes a sensitive and subtle approach to movement, takes into account individual physical abilities and is inspired by the F.M. Alexander method which awakens and stimulates our body awareness. This attention to oneself can thus promote the free flow of energy in the different processes of our body. In this dynamic, the body gradually finds its natural balance and movements will be experienced with more ease and flexibility. Better anchored in the ground, the participant feels free, light and coordinated in his movements, thus facilitating a calmer state of mind. This calmness will bring more confidence and will allow each participant to experience his or her potential for spontaneity and creativity while dancing.

Brigitte Meuwly has been teaching dance and the art of movement since 1980. From 1983 to 1985 she trained professionally in New York at the Nikolaïs/Louis Dance Lab school as well as at the Ruth Currier studio and with Simone Forti (contact-improvisation). In 1987 she founded the dance company DA MOTUS! with Antonio Bühler, with which they created about 30 shows and toured in more than 200 cities in 45 countries. In 2015 they received the Cultural Prize awarded by the State of Fribourg and in 2016 the Swiss Dance Prize.
In order to broaden her skills, Brigitte initiates herself through different courses and obtains in June 2016 the diploma of Chan Mi Qi Gong teacher, granted by the Tai Jiang Yang Sheng Centrum of the Chinesische Gesellschaft für Qi Gong Forschung. Since then, she has been participating in various intensive training seminars offered by Master Xuelin Jian.